New York Times
–
4 hours ago
The officials argued that a national emergency declaration was not necessary or helpful in the case of the opioid crisis, and that the powers …
The Kremlin knows a bargain when it sees it.
We are supposed to believe that it bought the American presidential election last year with $100,000 in Facebook ads and some other digital activity. Frankly, if American democracy can be purchased this cheap — a tiny fraction of the $7.2 million William Seward paid to buy Alaska from the Russians back in 1867 — it's probably not worth having.
Caption Settings Dialog
Beginning of dialog window. Escape will cancel and close the window.
The latest obsession in the Russian collusion story, the Kremlin's digital activity has generated headlines and put Facebook and all of Silicon Valley on the defensive, although this looks to be one of the most overhyped stories of the year.
The Russians, as far as we know, bought more than $100,000 in Facebook ads between June 2015 and May 2017. A little more than half was spent after last November, when, obviously, Donald Trump had already won.
The scale here is singularly unimpressive. A serious House campaign might spend $100,000 on digital. In a presidential campaign, the amount is a rounding error. The Trump campaign spent around $90 million on digital in 2016. Hillary Clinton employed a considerable digital staff, and announced she was spending $30 million on digital the last month of the campaign alone.
If tens of thousands of dollars was decisive amid this tsunami of tens of millions, the Russian trolls working somewhere in St. Petersburg should strike out on their own and start a political consultancy or an internet publishing company. They are geniuses.
It doesn't appear that much of the Russian material was explicitly advocating for Trump's election, and some of it wasn't even right-wing. One Russian Facebook page highlighted discrimination against Muslims. Another promoted anti-police videos for a Black Lives Matter audience. A pro-gay-rights page was called LGBT United.
Other pages were on the right and supportive of Trump. But much of the Russian Facebook activity was peddling online tripe indistinguishable from indigenous American online tripe — in fact, it was ripped off from content produced by Americans. If the Russians are going to decide our elections on social media, one assumes it will require at least a little originality.
One suspicion has been that the Trump campaign helped direct the Russian online effort. What we know about the Russian activity so far makes that doubtful. Why, if the Trump campaign was running its own digital campaign that was magnitudes larger, would it bother with a tiny Russian effort that wasn't always focused on Trump or his message?
The Daily Beast ran a story last week with the headline "Trump Campaign Staffers Pushed Russian Propaganda Days Before the Election." This referred to Kellyanne Conway and others associated with the Trump campaign retweeting posts from a Twitter account that masqueraded as a project of the Tennessee Republican Party, when it was really operated by Russian trolls. Conway tweeted a post from the account once, according to the story. And the report adduces no evidence that the Trump supporters knew the origin of the account.
It is outrageous that Russians meddled in our democracy at all, and if there are ways to lock them out of our social media going forward, we should do it. Let's not pretend, though, that the Russian online activity was the key to the election. This is classic conspiracy thinking — that some small secret cabal is responsible for a world-historical outcome that had much more obvious causes (Hillary Clinton's poor campaign, for one).
There may yet be truly damaging Russia revelations. Trump's campaign manager during a decisive phase of the primary campaign, Paul Manafort, worked with shady characters from that part of the world. The notorious Don Trump Jr. meeting with Russians promising oppo on Clinton spoke of a willingness to cooperate with anyone who might be useful. The Trump family's business dealings could always produce a nasty surprise.
But all the focus on Facebook serves, for now, as a substitute for a smoking gun in the absence of a real one.
Rich Lowry is editor of National Review. Twitter: @RichLowry.
(c) 2017, King Features Syndicate
Read the whole story
· · ·
 Putin and the Russian Mafia – Google News
More than 2 months after declaring an opioid crisis, Trump appears to have decided how to proceed Thursday October 26th, 2017 at 9:52 AM 1 Share Welcome to Mic's daily read on Donald Trump's America. Want to receive this as a daily email in your inbox? Subscribe here. Every day, we bring you a different dispatch on Trump's … Continue reading "9:49 AM 10/26/2017 – More than 2 months after declaring an opioid crisis, Trump appears to have decided how to proceed – Mic"
 Trump Investigations Report
And that's not presidential, experts say.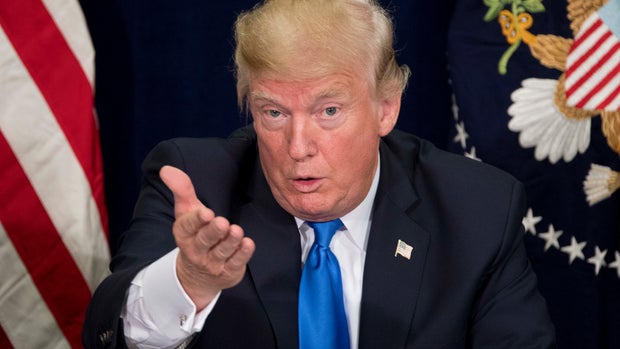 Donald Trump
Saved Stories – Trump Investigations Saved Stories – Trump Investigations Donald Trump: Stephen Colbert Imagines The Outcome Had Obama Given Press Conferences Like Trump roger stone – Google News: Trump ally Roger Stone denies collusion with Russia – TRT World Donald Trump: Seth Meyers Slams GOP For Being Engulfed In A Civil War Of Its … Continue reading "11:06 AM 10/26/2017 – The Recruitables: Why Trump's Team Was Easy Prey for Putin – Politico"
 Trump Investigations Report
Next Page of Stories
Loading…
Page 2
 donald trump racketeering – Google News
On Wednesday, Wikileaks leader Julian Assange confirmed that the head of a data analytics firm working with Trump's campaign contacted Assange last year, the Daily Beast reports. Alexander Nix, the head of Cambridge Analytica, admitted that he sent an email to Assange seeking to assist Wikileaks in finding and releasing Clinton's 33,000 missing emails. According to unnamed sources, Assange declined the request. This connection is the closest reported between Wikileaks and the Trump campaign during a time when Trump fervently admonished Clinton and publicly requested Russia's help to recover Clinton's lost emails.
Sen. Bob Corker, chairman of the Senate Foreign Relations Committee,  articulated his frustration with the Trump administration on Wednesday over the administration missing its Oct. 1 deadline to implement Russia sanctions, according to Politico. Trump signed the bipartisan sanctions bill in August, but his administration has yet to penalize certain Russian entities. Sens. John McCain and Ben Cardin have also expressed concern over the sanctions delay. Corker notably did not accuse the administration of purposeful delay, but intends to "check into it."
Marine Gen. Joseph F. Dunford Jr., the chairman of the Joint Chiefs of Staff, arrived in Seoul on Thursday for his annual meeting with South Korean military officials, the Washington Post reports. Dunford will discuss, among other things, improving South Korea's ballistic missiles and upgrading their military networks. Defense Secretary James Mattis will head to Seoul next week following Dunford's departure.
Army Sgt. Bowe Bergdahl's sentencing proceedings continued yesterday with emotional testimony from James Hatch, a former Navy SEAL whose military service dog was killed in a mission to retrieve Bergdahl, according to the Washington Post. Hatch's testimony is part of an ongoing process to determine whether the consequences, often deadly, that followed Bergdahl's abandonment of his post should factor into the sergeant's punishment. Hatch, who suffered career-ending injuries during the mission, delivered the tattered harness of his deceased military dog as evidence in the sentencing proceedings.
In an interview with several U.S. publications, Iraqi Prime Minister Haider al-Abadi urged the U.S. and Iran not to involve Iraq in growing conflicts over the nuclear deal and U.S. sanctions, the Wall Street Journal reports. Abadi reiterated his support for U.S. forces in Iraq fighting the Islamic State group, but that any attacks on coalition forces in Iraq, including those that U.S. officials believe are Iran proxies, would be considered "an attack on Iraq, on the sovereignty of Iraq, the sovereignty of the state."
President Donald Trump admitted that he did not authorize the mission in Niger resulting in the deaths of four U.S. special forces members, according to the Hill. Trump stated that his generals had the authority, clarifying that he "gave them authority to do what's right so that we win." On Monday, Gen. Dunford said that the soldiers were on a reconnaissance mission that did not require the president's authority.
ICYMI, Yesterday on Lawfare
Ashley Deeks, Sabrina McCubbin and Cody Poplin considered what the U.S. could learn from Cold War anti-propaganda strategies.
Ian Hurd discussed why both liberal and realist theorists incorrectly interpret the international  laws of war.
The Lawfare Editors flagged the next Hoover Book Soiree with Susan Landau on Nov. 1.
Bobby Chesney and Steve Vladeck posted this week's National Security Law podcast.
Garrett Hinck summarized the European Commission's privacy shield review.
Matthew Kahn posted the live stream of a House hearing on the risk that Kaspersky Labs products pose to the federal government.
Kahn also posted the Oct. 24 executive order to resume the U.S. refugee admissions program.
Email the Roundup Team noteworthy law and security-related articles to include, and follow us on Twitter and Facebook for additional commentary on these issues. Sign up to receive Lawfare in your inbox. Visit our Events Calendar to learn about upcoming national security events, and check out relevant job openings on our Job Board.
 Lawfare – Hard National Security Choices
Read the whole story
· · ·
Posts on G+ from mikenova (2 sites) Public RSS-Feed of Mike Nova. Created with the PIXELMECHANICS 'GPlusRSS-Webtool' at http://gplusrss.com: 9:49 AM 10/26/2017 More than 2 months after declaring an opioid crisis, Trump appears to have decided…   9:49 AM 10/26/2017 More than 2 months after declaring an opioid crisis, Trump appears to have decided how … 
Continue reading

 "12:22 PM 10/26/2017 – Trump appears to have decided how to proceed…"
By now, it should be clear to anyone following the news that Russian intelligence made a formidable effort to approach the Trump campaign and assess the potential to manipulate its members. As a former officer of the CIA's Directorate of Operations, I can tell you that Russian security services would have been derelict not to evaluate the possibility of turning someone close to Trump. While the question of collusion remains open, it's beyond dispute that Russia tried to get people around the president to cooperate. The June 2016 meeting in Trump Tower is indication enough, but other encounters bolster the argument.
How do you get someone to do something they should not do?
Story Continued Below
Generally, an intelligence officer looks for a person's vulnerabilities and explores ways to exploit them. It usually comes down to four things, which—in true government style—the CIA has encompassed in an acronym, MICE: Money, Ideology, Coercion, Ego. Want to get someone to betray his country? Figure out which of these four motivators drives the person and exploit the hell out of it.
It is important to note, too, that a person might not know he is doing something he shouldn't do. As former CIA Director John Brennan testified in May, "Frequently, people who go along a treasonous path do not know they are on a treasonous path until it is too late." Sometimes, such people make the best assets. They are so sure in their convictions that they are acting in their own best interest or in the best interest of their country that they have no idea they are being completely manipulated.
The Russians know all this, too.
From an intelligence point of view, the people surrounding Trump, and Trump himself, make easy targets for recruitment. This is not to say these people have definitely been recruited by Russian intelligence—and they've all denied it repeatedly—but you can be sure that Russia's intelligence services took these factors into consideration when they approached the campaign.
So, what pressure points might Russian intelligence officers have used to get their desired outcome with Trump's Recruitables?
Paul Manafort: Money
Anyone who has lobbied on behalf of leaders ranging from Zaire's Mobutu Sese Seko to the Philippines' Ferdinand Marcos to Equatorial Guinea's Teodoro Obiang likely has no set ideology or moral compass and is motivated primarily by making money. People like this make very good targets. There is no emotion involved. Getting the person to do something is a fairly straightforward transaction. For example, getting someone to buy real estate to help launder Russian funds, in return for a handsome fee, would be a pretty simple transaction. As soon as the person has done it one time, it is much easier to get them to do something else for you.
A real opportunity came when Manafort went to work on the campaign of Viktor Yanukovych for president of Ukraine. Yanukovych was close to Russian leader Vladimir Putin and was corrupt. By being willing to play in these circles, Manafort signaled his willingness to look the other way as long as the payoff was right. A ledger found in Yanukovych's abandoned palace showed he was paid $12 million (Manafort denied taking such payments, but the AP has confirmed that two of his companies did indeed receive part of this money). Putin pal Oleg Deripaska reportedly paid him $10 million a year to push Putin's agenda. Press reports also state he received loans of up to $60 million from Deripaska.
Was he in debt, which made him vulnerable to coercion? Or were these loans not actually loans, but payments that Manafort was never expected to pay back? Either way, money was clearly Manafort's weakness, and Russian intelligence would have known that, given his demonstrated willingness to work for just about anyone with deep pockets.
Michael Flynn: Money, Ideology, Ego
Flynn was at the top of his game as director of intelligence at JSOC, the Joint Special Operations Command. During his tenure, JSOC became a lean fighting machine, able to execute a hit on a target in a war zone and immediately process any actionable intelligence in order to hit the next target immediately, before the bad guys could move on. He moved up the intelligence ladder and landed the top spot at the Defense Intelligence Agency in 2012. Here, the Peter Principle quickly set in. Castigated for his lack of vision for the agency, his inability to manage a large organization, his unconventional approach to counterterrorism, and his "Flynn facts," it became evident in Washington circles that Flynn was over his head. President Barack Obama fired him.
Oh, how the mighty had fallen.
A top military figure, with a large ego, who felt slighted by Obama, the intelligence community and the military, Flynn was down. From the heights of JSOC to being fired—wrongly fired, no less, in his view—Flynn at this point would have made any foreign intelligence officer salivate. The man was vulnerable on several levels. His ego had taken a massive, public blow. He also firmly believed he was right, that he knew better than the president how to save the country from Islamic terrorists. Add to the mix that so many other military men had gone on to make millions in the private sector, cashing in on their military careers, their time in war zones, their connections to people both in government and in large defense companies. Flynn launched his own security consulting company and certainly might have thought: Where is mine?
This would have been a good moment for the Russians to send in a clever operative, stroke his ego, and tell Flynn how smart he was and how ridiculous Obama was for firing him. We've got a lot of people at RT who agree with you, the person might have added, while making it clear, "Our president agrees with you." Payments, made through speaking fees and consulting contracts, would have helped smooth the deal.
Story Continued Below
Does this mean Flynn was recruited as a traditional asset, fully under Russian control? No. The Russians are concerned with being able to influence people only as much as they need to. And with Flynn, who reportedly developed an obsession with collaborating with the Russians against ISIS and even defended RT as no different than CNN, had readily demonstrated his willingness to follow and promote the Kremlin's agenda in return for a certain amount of ego stroking (which, in turn, might have helped him actually believe what he was saying).
Felix Sater: Money, Coercion, Ego
In an article in the Atlantic, titled "Why Didn't Trump Build Anything In Russia?" Julie Ioffe painted a picture of Trump's former real estate partner as someone who really wanted to be part of the rich Moscow club but who lacked krysha, or "roof"—the political protection, Ioffe explains, to act as insurance should a deal go wrong—to be able to do it. "He tries to create the impression of someone who is extremely well-connected and very busy," a source who had worked with Sater told Ioffe. Sater made a few forays into Moscow business circles but could never convert and was unable to win the trust of anyone who would have mattered. As Ioffe wrote, Sater was worried about his image. So worried, in fact, he looked into hiring a PR firm to help build up his reputation. He was, in the end, an outsider who really wanted to be an insider.
Give this person the chance to say he is wheeling and dealing with Very Important People, and he will bend to your will. Russian security services could offer at least the appearance of "roof," even if they never intended to help Sater make money. His increased cachet would have been worth it to someone so image-conscious.
Jared Kushner: Money, Coercion
Kushner had a rocky entrée into Manhattan real estate. His purchase of 666 Fifth Ave. at $1.8 billion in 2007—that is, just before the market tanked—was perhaps not the strongest display of business acumen. And now, with payments due and business going badly, he was in a pickle. Perhaps the Russians had a great way for him to get out of that pickle. So they introduced him in December 2016 to Sergey Gorkov, the head of the Russian state investment bank Vnesheconombank, or VEB, who would have made it clear that he was in a position to help.
Donald Trump Jr.: Money, Ego
Junior is a lot like dad in his need to feel important. He was certainly a target because he manages access to his father, and his arrogance makes him easy to read. There is probably quite a bit of insecurity behind the smugness. Sure, he's done a few international deals, but it's going to take more than that to please daddy (Junior certainly could see that his dad never really pleased his father; Junior didn't want to repeat that). Access to deals and money would certainly be a way to manipulate him, but mostly it would be stroking the Trump ego. The most important thing for Junior was that daddy win, at any cost. The perks and business deals would be a nice bonus, but I don't think Junior even equated those perks with aid to his father's campaign. Why wouldn't he accept help for his father's campaign? He likely didn't even realize there was anything wrong with a foreign adversary lending a hand. As he wrote when approached with derogatory information on daddy's opponent, "I love it."
Donald Trump: Ego
A lot has been made of the possible existence of a peepee tape that Putin could lord over Trump to make him do Putin's bidding. (Trump denies it.) But the president has been revealed time and again as a deadbeat who does not pay his bills, a serial philanderer and a confessed sexual predator. He has bragged about walking in on women at the Miss America contest and grabbing women "by the pussy" whenever he likes. Would anyone really be surprised or shocked by such a tape? This is not to say such a tape does not exist, only that its role as kompromat is limited.
Ego is clearly the best way to get Trump to do anything. The Saudis certainly understood this, feting him with gold and orbs and displaying his enormous portrait on the side of a hotel, right next to the king's portrait. The Saudis had this man in the palm of their hands, hence Trump's pro-Saudi stancesince the trip, despite his campaign rhetoric shouting down the kingdom.
Trump's ego wanted to win and, he figured, everyone else wanted him to win, too. He was under the impression that everyone loved him and appreciated his greatness. Of course everyone wanted to help him win. If he accepted help from Russia, it's possible he didn't realize there was anything wrong with doing so. Why wouldn't they help him win, he might have thought, and why shouldn't he accept that help? For an experienced chekist like Putin, manipulating his ego is almost too easy.
Alex Finley is the pen name of a former CIA officer and author of Victor in the Rubble, a satire of the CIA and the war on terror. Follow her on Twitter: @alexzfinley.
Read the whole story
· · · · · · ·
Next Page of Stories
Loading…
Page 3
Next Page of Stories
Loading…
Page 4
Welcome to Mic's daily read on Donald Trump's America. Want to receive this as a daily email in your inbox? Subscribe here.
Every day, we bring you a different dispatch on Trump's America. Today's focus: Opioid deja vu.
Thursday's Dispatch: More than two months later, action on the opioid crisis
Thursday's presidential press conference will be a prime example of how Donald Trump runs the federal government.
More than two months after Trump declared the opioid crisis "a national emergency," as of last week, the government had still not formally declared a national emergency. That designation would send additional federal funds to hospitals, addiction clinics and first responders dealing with the historic rate of opioid-driven drug overdoses in America.
Nearly two weeks ago, Mic asked the White House for an update on the emergency declaration. The Trump administration issued Mic the same statement that had been issued in August, saying the government was focused on opioids and already treating it like an emergency.
As with health care, tax reform and a host of other initiatives, Trump's rhetoric on opioids has been long detached from his administration's policy initiatives.
The president said last week that he would soon formally declare a national emergency over opioids. Now, reports indicate the president will declare the crisis a public health emergency — but stop short of the more sweeping declaration.
The public health emergency will do less than a more sweeping national emergency. It will have to be renewed every 90 days. It will not provide federal funding for addiction treatment centers with more than 16 beds, a key recommendation of Trump's own opioid commission.
"I think our general feeling is, that's a good step, but it's a temporary step, and it's a transitional step," Jim Blumenstock, chief of health security for the Association of State and Territorial Health Officers, told USA Today. Trump's public health declaration is not expected to come with a further ask of money from Congress, which could designate funds to get more life-saving naloxone into the hands of first responders.
The cold reality: Nearly 65,000 people died of drug overdoses between February 2016 and February 2017, the most recent data available. That's more people than were killed in car accidents last year.
Watch for Trump's speech on the opioid crisis at 2 p.m. Eastern.
Thursday in Trump's America:
Establishment Republicans know they're fighting for their lives. After very public rebukes of Trump by Sens. Bob Corker (R-Tenn.) and Jeff Flake (R-Ariz.), the GOP is launching an assault on Steve Bannon to protect other Republican incumbents up for reelection next year, the Washington Post reported. Bannon and his wealthy allies are sensing the opportunity to pick off multiple Republican senators in a bid to drive the GOP to become more nationalist and isolationist.
The average premium increase of the most popular plans purchased on Obamacare's individual health care exchange will be 34% next year, a new study said. That's driven by instability in the marketplace created by Trump's decision to end subsidies to health insurers and general anxiety surrounding the Affordable Care Act's future.
And the bipartisan legislation that would stabilize the marketplace — which Trump opposes — would cut $3.8 billion from the deficit.
USA Today reported the new U.S. refugee admission program could block nearly half of the people seeking to come to the United States this year compared to last.
The Republican candidate running for governor in Virginia is running anti-immigrant ads as he aims to pull off an upset in the gubernatorial race. Will it work? And Mic broke down how a new Democratic super PAC is trying to win back state legislatures — starting with a data-driven prototype in next month's Virginia election.
Why the Senate's late-night vote on an obscure financial regulation will make it harder for you to fight for your money back.
What to know about who Donald Trump may pick at the next chair of the Federal Reserve. (Bored by monetary policy? Give this a click.)
House Republicans are barreling toward passage of a budget that would pave the way for tax reform — and $1.5 trillion in tax cuts. The Senate passed it last week.
Sometime today, the National Archives will post thousands of documents related to the John F. Kennedy murder investigation. Continually update this webpage.
Shortly after being slammed by a hurricane, Puerto Rico signed a $300 million contract with a two-person energy company based in the Montana hometown of Interior Secretary Ryan Zinke. Now, San Juan's mayor said the contract should be voided — and Whitefish Energy apologized for feuding with her.
"I'm a very intelligent person." Trump said journalists are making him out to be "more uncivil" than he actually is.
Today's MicBite:
The feud that has consumed the last few weeks: Trump vs. Corker, a history. Tap or click below to watch.
Read the whole story
· · · ·
A congressional committee investigating Russia's interference in the 2016 presidential election has stepped up its probe over the past month, requesting that an agency that combats financial crime turn over confidential banking information on nearly 40 individuals and businesses, including at least nine who are American, BuzzFeed News has learned.
Senator Chuck Grassley, the chairman of the Senate Judiciary Committee, sent a letter to the Treasury Department's Financial Crimes Enforcement Network — FinCEN for short — on September 29, seeking information about any suspicious financial transactions banks may have flagged on the individuals and businesses since Jan 2015. Banks are required by law to flag such transactions for FinCEN.
The Judiciary Committee is one of three congressional committees looking into Russian interference. Its investigation only recently got off the ground after months spent negotiating the scope of its probe, two staffers told BuzzFeed News, and a rift has reportedly been developing between Grassley and Dianne Feinstein, the top Democrat on the committee. Feinstein did not sign the letter.
"The Senate Judiciary Committee is conducting an investigation into Russian interference in the 2016 presidential election, as well as the Department of Justice's enforcement of the Foreign Agents Registration Act," Grassley's letter says. "I am requesting a copy of any and all documents relating to Suspicious Activity Reports (SARs) that have been filed regarding the following individuals or entities." They include:
Rinat Akhmetshin, and Natalia Veselnitskaya, the Russian-American lobbyist and the Russian lawyer who met with Donald Trump, Jr. at Trump Tower in June 2016.
Robert Arakelian, another lobbyist who works with Akhmetshin.
Human Rights Accountability Global Initiative Foundation, the Washington, DC-based nonprofit headed by Veselnitskaya whose stated goal is to "restart American adoption of Russian children" but has lobbied to repeal the Magnitsky Act, the 2012 law that imposed sanctions on Russian officials.
Glenn Simpson, Thomas Catan, Peter Fritsch and their private investigation firm Fusion GPS, which commissioned the so-called "dossier" that alleged the Russian government had been "cultivating, supporting and assisting" President Donald Trump.
Christopher Steele, the former British intelligence agent who collected the intelligence for the dossier; his business partner, Christopher Burrows; and their firm Orbis Business Intelligence.
Perkins Coie, a law firm that reportedly retained and paid Fusion GPS on behalf of the Clinton campaign for research that ended up in the dossier.
Prevezon Holdings, a Russian-owned company that was charged with money laundering and settled with the Department of Justice earlier this year, and eight of its related companies.
The law firm Baker Hostetler, which was hired to defend Prevezon, and two of the firm's attorneys, John Moscow and Mark Cymrot.
Banks, hedge funds, casinos, and other financial institutions are required under the Bank Secrecy Act to file suspicious activity reports with FinCEN when money laundering or fraud is suspected. They are also required to file SARs for certain cash or wire transactions of $10,000 or more, even if those transactions seem legitimate. SARs contain personal financial information, such as bank account numbers and a record of financial transactions. FinCEN may not have SARs on all the individuals and businesses the Committee named.
A spokesperson for Grassley, Michael Zona, did not respond to requests for comment about the committee's investigation. Simpson, the Fusion GPS co-founder, declined to comment. Simpson's business partners, Fritsch and Catan, did not respond to requests for comment. Burrows declined to comment on behalf of himself, Steele, and Orbis. Neither Cymrot nor a spokesperson for Baker Hostetler responded to requests for comment. Moscow, the other Baker Hostetler attorney, declined to comment. Akhmetshin, Arakelian, and Veselnitskaya also did not respond to requests for comment. Officials at Prevezon could not be reached. A spokesperson for Perkins Coie said that the firm "rigorously adheres to all laws and regulations including those that protect the integrity of our financial systems, and any suggestion that the law firm has acted inappropriately is wholly unfounded."
Grassley's letter set an October 13 deadline for FinCEN to turn over the financial information to his committee. But according to three sources, no suspicious activity reports have been sent to the committee.
Jason Leopold is a senior investigative reporter for BuzzFeed News and is based in LA. Recipient: IRE 2016 FOI award; Newseum Institute National Freedom of Information Hall of Fame. PGP fingerprint 46DB 0712 284B 8C6E 40FF 7A1B D3CD 5720 694B 16F0. Contact this reporter at <a href="mailto:jason.leopold@buzzfeed.com">jason.leopold@buzzfeed.com</a>
Contact Jason Leopold at jason.leopold@buzzfeed.com.
Got a confidential tip? Submit it here.
Read the whole story
· · ·
 trump russian candidate – Google News
10.26.17 Russia-NATO Council To Discuss Ukraine, Afghanistan Report: Putin's 'Inner Circle' Worth Nearly $24 Billion Reagan's Son: Donald Trump Is A 'Danger To The World' And Must Be Removed | HuffPost Why Clinton Camp's Funding of the Trump Dossier Matters – Bloomberg Julian Assange Says WikiLeaks Rejected Request From Trump-Linked Firm | HuffPost Donald Trump … Continue reading "6:51 AM 10/26/2017 – Russia is pushing to control cyberspace. We should all be worried. – The Washington Post"
 Trump Investigations Report
Next Page of Stories
Loading…
Page 5
 Russian Intelligence services – Google News
Before the start of business, Just Security provides a curated summary of up-to-the-minute developments at home and abroad. Here's today's news.
TRUMP-RUSSIA
The WikiLeaks founder Julian Assange was approached by chief executive Alexander Nix of the data firm Cambridge Analytica, which carried out work for the Trump campaign during the 2016 election, Assange said yesterday, saying that he could confirm that he rejected the request from Cambridge Analytica for help. Nicholas Confessore reports at the New York Times.
Nix asked Assange about Hillary Clinton's 33,000 missing emails and help to release them, according to sources familiar with the congressional investigations into alleged Trump-Russia connections, Betsy Woodruff reports at The Daily Beast.
The Democratic National Committee (D.N.C.) were unaware that the national party helped to fund the salacious dossier compiled by former British Intelligence officer Christopher Steele which alleged connections between the Trump campaign and Russia, current and past leaders of the D.N.C. have said, following revelations this week that the Clinton campaign and the D.N.C. partly funded the research. Jonathan Easley reports at the Hill.
A U.S. District Court judge has given the opposition research firm Fusion GPS until today to answer a subpoena issued by the House Intelligence Committee earlier this month. Fusion GPS hired Steele to compile the dossier and Republicans in the committee have been seeking information about the firm's bank records, Mark Hosenball reports at Reuters.
Documents from Hillary Clinton's 2016 presidential campaign are expected to be received by the Senate Intelligence committee next week, according to two sources familiar with the matter. The documents could provide greater detail about the Democrats' response to Russia's interference campaign and the Democrats' role in funding for the Steele dossier, Ali Watkins reports at POLITICO.
The Senate Judiciary Committee has fractured into competing agendas, with Chuck Grassley (R-Iowa) focusing on the Obama-era uranium deal with Russia and Dianne Feinstein (D-Calif.) drafting legislation on foreign influence in U.S. elections. Elana Schor and Kyle Cheney report at POLITICO.
It was legal to publish apparently hacked emails from the D.N.C., lawyers from Trump's presidential campaign argued in a court filing yesterday, saying that WikiLeaks qualifies as an online service immune from legal liability. Josh Gerstein reports at POLITICO.
The key points explaining the background of the dossier and the implications of the latest revelations about funding are set out by Kenneth P. Vogel at the New York Times.
There should be a full investigation following the revelation that the Democrats partly funded the salacious dossier alleging links between the Trump campaign and Russia, congressional investigators should focus on the role of the D.N.C., the Clinton campaign, and the possible role played by the F.B.I., and it would be wise for Mueller to resign from his role. The Wall Street Journal editorial board writes.
The F.B.I. has been "so thoroughly implicated in the Russia meddling story" and calls for special counsel Robert Mueller to recuse himself from the Russia investigation are not just "fanciful partisan grandstanding," Holman W. Jenkins Jr. writes at the Wall Street Journal setting out the connections between the dossier, the Obama administration, the F.B.I. investigation into the Trump campaign, Mueller, the Obama-era deal to expand U.S.-Russia nuclear business, the Clinton Foundation, and the F.B.I.'s role in the nuclear business deal.
NORTH KOREA
The U.S. should take "literally" North Korea's threat to test a nuclear weapon above ground, a senior North Korean official warned in an interview yesterday, adding that Pyongyang "has always brought its words into action." Will Ripley reports at CNN.
"China is helping us and maybe Russia's going through the other way and hurting what we're getting," President Trump said in an interview with Fox Business Network yesterday, stating that Russia has undermined efforts to rein in North Korea and that the threat posed by the regime could be more easily resolved if the U.S. had a better relationship with Russia. Reuters reports.
"I solve problems," Trump also said in the interview, lamenting the fact that the "North Korea problem" had not been resolved earlier, but saying that he would deal with the crisis. Olivia Beavers reports at the Hill.
"Well, I'd rather not say, but you'll be surprised," Trump said yesterday in response to a question whether he would visit the Demilitarized Zone (D.M.Z.) between North and South Korea during his 12-day tour of Asia at the beginning of next month. Jordan Fabian reports at the Hill.
The leader of South Korea's conservative opposition party has called on the Trump administration to reintroduce tactical nuclear weapons to South Korea in the face of the threat posed by Pyongyang, the possibility of this option was also raised by South Korea's Defense Minister Song Young-moo during a meeting with Defense Secretary Jim Mattis last month. Felicia Schwartz reports at the Wall Street Journal.
North Korea's extensive "re-education" camps have been revealed by satellite images and a report by the U.S.-based Committee for Human Rights in North Korea due to be released today. Anna Fifield reports at the Washington Post.
IRAQ
The U.S. and Iran should not bring their "trouble" inside Iraq, Iraqi Prime Minister Haider al-Abadi urged yesterday, saying that he would like to work with both countries, that U.S. forces should remain in Iraq after recapturing the last of the territory in the hands of the Islamic State group, and that Iranian-backed militias would be disbanded if they did not come under the control of the Baghdad government. Yaroslav Trofimov reports at the Wall Street Journal.
"We won't accept anything but its cancellation and the respect of the Constitution," Abadi said in a statement today, saying that the Kurdistan region's offer to "freeze" the result of the controversial Iraqi Kurdistan independence referendum held last month was not enough to open negotiations. Reutersreports.
Iraqi federal forces and Iranian-backed Iraqi militia attacked Peshmerga positions in Nineveh province, the Kurdistan Region Security Council (K.R.S.C.) said today, also calling on the Baghdad government to accept the offers for unconditional talks and adding that the U.S. should "stop Iraq's reckless behavior." Reuters reporting.
The clashes between Iraqi federal forces and Kurdish Peshmerga have impeded the movement of coalition military equipment inside Iraq and Syria, thereby undermining the campaign against the Islamic State group, the spokesperson for the U.S.-led coalition Col. Ryan Dillon said today. The APreports.
The U.S. has sought to defuse tension between the Iraqi government and the Iraqi Kurds, the two U.S. allies have been involved in clashes since last month's Iraqi Kurdistan independence referendum, the Iraqi Kurds yesterday offered to suspend the results of the referendum which returned an overwhelming vote in favor of independence, however this has fallen short of Baghdad's demand that the result be annulled. Isabel Coles, Ali A. Nabhan and Yaroslav Trofimov report at the Wall Street Journal.
Abadi is set to meet with Iranian President Hassan Rouhani today in Tehran for talks on regional security, Ted Regencia reports at Al Jazeera.
Abadi's approach to the Kurdistan independence referendum has won praise from even his traditional critics, and his increased popularity as a consequence of his decisive actions have seemingly cemented his reelection next year, however difficulties remain. Tamer El-Ghobashy and Mustafa Salim observe at the Washington Post.
Abadi has managed to keep Iraq unified despite the predictions of an inevitable breakup, taking a tough stance against the Iraqi Kurdistan has seemingly paid off and Abadi is in a stronger position to lead the country out of the "shadow of war" and work with regional powers. Ishaan Tharoor provides an analysis at the Washington Post.
NIGER
"My generals and my military" had authorization over the U.S. mission in Niger, Trump said yesterday when asked whether he authorized the mission, making the comments after the chairman of the Joint Chiefs of Staff Gen. Joseph Dunford said earlier this week that the U.S. special forces members were on a reconnaissance mission. Rebecca Kheel reports at the Hill.
The confused information amid the Niger ambush on Oct. 4 led the White House to believe that several U.S. soldiers might have been missing, the White House did not receive information that three bodies had been recovered and one soldier remained missing until at least eight hours after the attack began, according to an official familiar with the matter. Greg Jaffe and Karen DeYoung report at the Washington Post.
The Trump administration has been putting in motion plans to allow lethal drone strikes in Niger, according to U.S. officials, and the plan had been under consideration long before the deadly Oct. 4 attack. Ken Dilanian, Courtney Kube, William M. Arkin and Hans Nichols report at NBC News.
IRAN
Israel would "act militarily by itself" if international efforts led by Trump do not "help stop Iran attaining nuclear capabilities," Israel's Intelligence Minister Israel Katz said today. Tim Kelly and Nobuhiro Kubo reporting at Reuters.
Treasury Secretary Steven Mnuchin has embarked on efforts to increase financial pressure on Iran and target the financing of terror in the Middle East, launching a new anti-terror finance center in Saudi Arabia yesterday. The efforts come following Trump's refusal to certify Iran's compliance with the 2015 nuclear agreement last month, Ian Talley and Margherita Stancati report at the Wall Street Journal.   
The House of Representatives voted for new sanctions against the Iran-backed Lebanese Shi'ite Hezbollah militia group yesterday, today the House will vote on another bill calling for additional sanctions aimed at Iran's ballistic missiles program. Al Jazeera reports.
A bipartisan plan for a tougher approach on Iran is being crafted by Senate Foreign Relations Committee Chairman Bob Corker (R-Tenn.) along with his Democratic counterpart Ben Cardin (Md.), Corker said yesterday. Elana Schor reporting at POLITICO.
SYRIA
Pro-Syrian government forces have seized an oil pumping station in the eastern Deir al-Zour province, a Hezbollah-run news service reported today, the report saying that the position constitutes a "launch pad" for an offensive on what is believed to be the last remaining Islamic State stronghold in Syria. Reuters reports.
"The outcome is not in doubt," the U.S. commander of the international campaign against the Islamic State in Syria and Iraq, Lt. Gen. Paul E. Funk II, said yesterday, saying that the militants were "on the run" and they cannot hold territory, but noting that the coalition would continue to pursue foreign Islamic State fighters before they can return to their home countries and there is a "real problem" that the "virtual caliphate" continues to recruit. David Zucchino reports at the New York Times.
The U.N. envoy for Syria Staffan de Mistura will meet with Secretary of State Rex Tillerson in Geneva today, the AP reports.
U.S.-led airstrikes continue. U.S. and coalition forces carried out seven airstrikes against Islamic State targets in Syria on October 24. Separately, partner forces conducted three strikes against targets in Iraq. [Central Command]
RUSSIA
Top Senate Republicans have vowed to press the White House on delays to imposing new sanctions on Russia and whether this has been done intentionally, the legislation for the sanctions was passed three and a half weeks ago and were in response to Russia's interference in the 2016 U.S. presidential election. Kevin Liptak, Ted Barrett and Sara Murray report at CNN.
Democratic members of House Foreign Affairs Committee have also demanded answers from the Trump administration on delays to sanctions against Russia in a letter to the president yesterday. Andrew Desiderio reports at The Daily Beast.
Germany's President Frank-Walter Steinmeier met with Russian President Vladimir Putin yesterday to discuss key issues, such as Ukraine, Syria, economic ties, the Iran nuclear deal and the crisis on the Korean Peninsula. The AP reports.
TRUMP ADMINISTRATION FOREIGN POLICY
Trump's son-in-law and adviser Jared Kushner is expected to take a low-profile role during Trump's visit to China next month, with some speculating that Kushner's diminished position has been a consequence of chief of staff John Kelly's efforts to standardize practice at the White House. Annie Karni and Andrew Restuccia report at POLITICO.
The relationship between the most senior U.S. officials at N.A.T.O. headquarters is described by David M. Herszenhorn at POLITICO Magazine.
The challenges facing the Trump administration did not start with Trump and the White House must grapple with the "most challenging foreign-policy environment" in modern history due to threat, organizational and cognitive complexities. Amy Zegart writes at The Atlantic.
Secretary of State Rex Tillerson's visit to Pakistan this week shone a spotlight on the difficulty U.S.-Pakistan relationship, it is difficult to understand the U.S. position due to its inconsistent messages and Tillerson should not have lectured Pakistan without recognizing Pakistan's "legitimate security interests."  The DAWN.com editorial board writes.
Tillerson achieved a rare diplomatic victory by bringing Saudi Arabia and Iraq closer together last weekend, marking a potentially significant development between the two countries who have been traditional adversaries. Rhys Dubin writes at Foreign Policy.
OTHER DEVELOPMENTS
The House of Representatives held a series of hearings focused on the Trump administration's knowledge of Kaspersky Lab anti-virus software and Russia's ability to access U.S. National Security Agency (N.S.A.) classified information through Kaspersky Lab products. Morgan Chalfant reports at the Hill.
The U.S. and Gulf Arab allies sanctioned eleven Yemeni individuals and entities suspected of financing the Islamic State group and al-Qaeda, the U.S. Treasury Secretary Steven Mnuchin praising the designation by Gulf Arab allies, the measure demonstrating a rare moment of coordination, especially amid the Gulf crisis which began on June 5. Aya Batrawy and Abdullah Al-Shihri report at the AP.
A former F.B.I. informant has been cleared to testify before Congress over the Obama-era nuclear business deal with Russia, a Justice Department spokesperson confirming that the informant would not be subject to a confidentiality agreement. John Solomon reports at the Hill.
The Senate Armed Services Committee has expressed confidence that it will finish work on the annual defense policy bill soon, the chairman of the committee John McCain (R-Ariz.) saying that it can be done "in the next few days." Rebecca Kheel reports at the Hill.
"I haven't seen any hard evidence on the delivery of weapons from the Russians to the Taliban," the chairman of N.A.T.O.'s military committee Gen. Petr Pavel told reporters yesterday, making the comments amid concern from Pentagon officials that Russia has been increasingly involved in the conflict in Afghanistan. Rebecca Kheel reports at the Hill.
The position of military generals at the top of the Trump administration carries risks and "perhaps they are in over their heads." Mark Perry writes at POLITICO Magazine.
Japanese Prime Minister Shinzo Abe is expected to propose strategic dialogue between the leaders of the U.S., India and Australia to counter China's expansionism. Reuters reports.
Read the whole story
· · · · · · · · · · ·
Washington Post
–
Oct 24, 2017
Russia's cyber-meddling in the 2016 U.S. presidential election has been accompanied by what U.S. and European experts describe as a …
The Korea Herald
–
2 hours ago
Russia's cybermeddling in the 2016 US presidential election has been accompanied by what US and European experts describe as a …
The Daily Star
–
Oct 21, 2017
A version of this article appeared in the print edition of The Daily Star on October 26, 2017, on page 7. Recommended. Advertisement …
Bill Browder
This much is clear: Vladimir Putin hates Bill Browder.
Browder was once the largest foreign investor in Russia and, it needs to be said, a great admirer of the Russian president. Today, he is perhaps the Putin's regime's fiercest critic, and Browder must derive some satisfaction in the way he grates on the Kremlin.
Browder's change of heart came well after he was kicked out of the country in 2005. It was the death of an accountant who worked for Browder named Sergei Magnitsky that did it. Magnitsky was thrown in prison, where he was beaten and left to die in 2009 from lack of medical treatment. His crime? Magnitsky had had the temerity to expose  a massive $230 million tax fraud perpetrated by Russian officials.
In response, Browder lobbied Congress to draft legislation imposing sanctions on the Russian officials responsible for Magnitsky's death. The Magnitsky Act was signed into law by President Obama in 2012.  Browder has continued his campaign in Canada, the United States, and Europe —  and it has driven Russian officials bat-shit insane.
Russian legislators responded to the Magnitsky Act by banning adoption of Russian children by Americans — harming their most vulnerable citizens for what, political retaliation? A year later, in a shameful display of injustice, a Moscow court convicted Magnitsky of tax evasion in a posthumous trial. (Browder was found guilty of fraud in absentia.) The Trump campaign was drawn into a June 2016 meeting with Russians on the Magnitsky Act when the future president's son was promised dirt on Hillary Clinton.
In the latest hysterical response, now it's Browder who is suspected of murdering Magnitsky. According to Russian prosecutors, Browder colluded with a British intelligence agent to convince Russian prison doctors to withhold care for Magnitsky. The evidence is comical: poorly written communications that were allegedly intercepted from Western spy agencies.
Russia managed to get Browder briefly banned from entry to the United States by putting him on an Interpol wanted list. His visa privileges were restored by the Trump administration on Monday after members of Congress and the press leaped to Browder's defense.
The reason the Magnitsky Act drives the Kremlin nuts is that it hits the kleptocrats in their unprotected flank. Russian oligarchs and the kleptocrats who steal from the state store their assets in the West. And what is the point of stealing a fortune from the Russian people if you can't buy condos in Miami or Manhattan or send your kids to exclusive British schools because of some lousy sanctions?
Browder has rightly been praised for his courage in standing up to the Putin regime. And his book, Red Notice, is an excellent read.  However, the laudatory coverage Browder regularly receives from a press corps he has skillfully cultivated and his star treatment before a US Congress he lobbies require a selective reading of events.
The fact is that Browder was once one of Putin's biggest cheerleaders, as he admitted during deposition:
Q: So in 2005, you were quite a supporter of Vladimir Putin's, right?
A: Correct.
Most gallingly, he defended the 2003 arrest of Mikhail Khodorkovsky, the head of Yukos, one of the world's biggest oil producers. Stalin would have approved of the way Khodorkovsky was convicted, imprisoned in a gulag at Russia's border with China, and then put on trial and convicted again. His  company was seized and acquired by the state.
It wasn't exactly clear what Khodorovsky had done wrong except he had criticized Russia's corruption during a televised meeting with President Putin a few months before his arrest and funded a movement promoting the rule of law and democratic values called Open Russia.
Khodorkovsky's arrest and the seizure of Yukos wasn't democracy; it was Mafia tactics. But Browder hailed Khodorkovsky's arrest as progress toward Russia's return to greatness:
Putin, was only doing "what any leader would do to further his nation's interests,"  Browder wrote. "While there may be some things about Putin that we disagree with, we should give him the benefit of the doubt in this area and fully support him in his task of taking back control of the country from the oligarchs."
As for Khodorkovsky, Browder said he was hiding something. "Khodorkovsky collected an enormous pile of cheap assets from the government and minority shareholders, and then embarked on an impressive charm and lobbying offensive to legitimize himself and his wealth. He has been very successful in getting people to forget his not-so-distant past," Browder wrote.
Now, it's Browder who has been very successful in getting people to forget his not-so-distant past. Putin's No. 1 enemy, as he describes himself, was once Putin's No. 1 fan.(To his credit, he did expose corruption at the companies in which he invested such as the gas giant Gazprom, and this made powerful enemies.)
Here is part of a presentation by Browder in April 2005 titled Seven Big Myths About Russia
Here's how The Wall Street Journal described Browder in 2006 after he had been kicked out of Russia:
Browder has been one of the most outspoken supporters among foreign investors of Russian President Vladimir Putin. He argued tirelessly that the western media and critics of the Kremlin were misreading the situation and that Putin's administration was good for investors. He was defending the Kremlin as recently as January, when Browder spoke at the World Economic Forum in Davos, Switzerland.
That's right. Browder was still defending Putin even after he was denied entry to the country.
Why such love for Putin? In deposition, Browder says the two men never met. The answer: It was just business. Investing in Russia was very profitable. His fund, Hermitage Capital Management, recorded $1 billion in profits and Browder pocketed $130 million in 2006.
When Browder was denied entry to Russia, ostensibly as a threat to national security, his Hermitage Capital Management was the country's largest foreign investor with $4 billion in Russian equities. Like Khodorkovsky before him, Browder appeared to have made the mistake of believing that he was untouchable. Who in their right mind would ban the man who brought billions into the Russian economy?
Browder's lobbying of US politicians and courts would sit better with me had he not given up his U.S. citizenship. In 1998, Browder obtained a passport from the more Russophilic United Kingdom. Published reports say he did this for tax reasons but gave a different explanation during deposition:
Q. So why did you give up your U.S. citizenship?
A. Personal reasons.
Q. And what are those personal reasons?
A. My family was persecuted during the McCarthy era….
Q. What kind of persecution did you face?
A. My grandmother was sick with cancer and the U.S. Government tried to deport her to Russia when she was dying. [Browder's grandfather, Earl Browder, led the Communist Party in the United States.]
Q. What year was that?
A. In 1950 something.
Q. I see. And so 1998, this all came back as a rush of emotion and you decided to give up your U.S. citizenship?
A. No.
Interestingly, Britain, Browder's new home, has been much slower to take up the Magnitsky cause. (A bill passed the House of Commons this year and is now being considered in the House of Lords.)  The Brits have a conflicted relationship with Russian rubles: They have to come to depend on them.  London is where Kremlin insiders like to stash their money. It's where they buy homes through shell companies, go shopping and send their children to posh schools.  Billions of pounds have washed through Britain since the fall of the Soviet Union, although nobody knows exactly how much. A group even offers kleptocracy tours of London.
Browder has been demanding justice for Sergei Magnitsky — and rightfully so — but, at least in one instance, he literally ran away from an American court.  Here is what happened when a process server tried to serve Browder with a subpoena in New York following his 2015 appearance on The Daily Show:
The case involved a Russian financier named Denis Katsyv. At the time, Katsyv was accused in federal court of laundering money that was part of the fraud that Sergei Magnitsky uncovered. The case that was based on information Browder provided  to prosecutors in New York.¹   Browder eventually did have to testify and I've posted Browder's Deposition.
Am I wrong in thinking that it's grossly unfair and somewhat suspicious for Browder to demand justice for Magnitsky while fleeing a subpoena in the case he instigated?  Shouldn't he be proud to stand up for his late friend and colleague?
Please don't mistake what I'm saying here. I'm no fan of Putin, but Browder is undermining his own cause when he selectively uses the law and the press to serve only his own interests.
1. Katsyv's case, U.S. v Prevezon Holdings, was settled for $5.9 million before trial.
Read the whole story
· · · · · · · ·
Next Page of Stories
Loading…
Page 6
Next Page of Stories
Loading…
Page 7
Next Page of Stories
Loading…
Page 8
Next Page of Stories
Loading…
Page 9
Next Page of Stories
Loading…
Page 10
Next Page of Stories
Loading…
Page 11