The World News and Times  – Saved Stories
Saved Stories – None
Putin Trump – Google News: Dem: Putin trying to 'outflank' US across the globe while Trump tweets – The Hill
 Putin Trump – Google News
Barred From Running, Barred From Boycotting: A Russian Candidate's Quandary – New York Times
Reuters: Lawmakers Question Businessman at 2016 Trump Tower Meeting – Newsmax
'Attorney General Sessions, call your office' – Washington Times
Lawmakers question businessman linked to Trump Tower meeting – The Hill
CNN Obsesses Over Trump's Tweet About The Dossier [VIDEO] – The Daily Caller
Donald Trump caught in one of his most idiotic lies yet

Donald Trump lies nearly every time he opens his mouth. He lies so often, it's headline news when he presumably by pure coincidence tells the truth. He lies so often, he even lies when the truth would make him look better. He makes up bizarre lies for no apparent reason. So it's not surprising that he told a blatant lie on Christmas Day that's already been proven to indeed be a lie. It's just that it's such a weird thing to lie about.Here's what Trump tweeted on the evening of Christmas Day: "I hope everyone is having a great Christmas, then tomorrow its back to work in order to Make America Great Again (which is happening faster than anyone anticipated)!" So what exactly did he do to get "back to work" on December 26th? According to his official schedule released in the White House pool report, Trump had literally nothing on his work schedule today. Instead he hung out at a golf resort.

Again, it's not remotely surprising to see Trump caught in yet another lie. It's not even all that surprising that his own people outed his lie by posting an empty schedule for the day. What's weird is that no one was really expecting Trump to go back to work the day after Christmas. Lots of people take vacations during Christmas week. So why on earth would Trump go out of his way to falsely claim that he was going to be working on December 26th, when no one had even asked him, and no one even cared? It actually does point to something that may be enlightening.

Donald Trump has proven himself to be the most aloof person in the history of the U.S. Presidency. He has no desire to do the job. He puts no effort into it. His words regularly give away that he doesn't even know or understand what the job is. Considering all of this, it's entirely possible that when Trump claimed on Christmas Day that he was going "back to work" the next day, he had no idea that nothing was on his schedule. He's also proven himself so senile that even if he was told he had an empty schedule, he may not have been able to hang onto that information.

The post Donald Trump caught in one of his most idiotic lies yet appeared first on Palmer Report.
Timeline for 13 days that transformed Trump White House – Torrington Register Citizen
Foreign leaders say US is losing stature – The Recorder
U.S. Lawmakers Question Businessman At 2016 Trump Tower Meeting

Trump's eldest son met with a Russian lawyer promising damaging information on Hillary Clinton.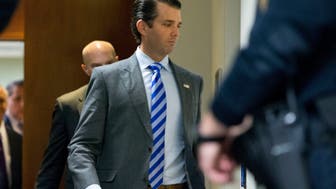 Goldberg: Donald Trump owes '17 wins to GOP, generals – Boston Herald
US Lawmakers Question Businessman At 2016 Trump Tower Meeting – HuffPost
What It's Like to Betray Antifa to the Copsand Get Caught – Willamette Week
What It's Like to Betray Antifa to the Copsand Get Caught

Willamette Week

An exuberant 20-year-old with short, dyed-blue hair, Tan, whose legal name is June Davies and who identifies as gender non-binary, felt a magnetic pull to the left-wing protests in Portland that followed Donald Trump's 

election

. Two days after the 

2016…
Other Views: Congress sends clear message to world's thugs – Yakima Herald-Republic
For Trump and Republicans, these red flags are hard to miss – NBCNews.com
Brian Klaas: Trump's behaviour is scarily similar to these 3 modern dictators – Business Insider
Dizzying GOP turnarounds amid one constant: Trump keeps being Trump – USA TODAY
[EWB Interview] Lindley-French: NATO mission to stabilise Europe and the Western Balkans – European Western Balkans (press release)
When Picking Apples on a Farm With 5000 Rules, Watch Out for the Ladders – New York Times
Trump isolating the US, from Asia to the Mideast – Las Vegas Sun
Trump isolating the US, from Asia to the Mideast

Las Vegas Sun

It's hard to know where 

Trump

 is in worse trouble, but he's definitely getting on the wrong side of China's President Xi Jinping with a lengthy foreign policy declaration castigating China for just about everything from unfair trade practices to 

…and more »
The KGB Papers: How Putin Learned His Spycraft, Part 1 – Daily Beast
Conservative Policy, Populist Attitude – National Review

National Review

Conservative Policy, Populist Attitude

National Review

A new governing philosophy had made itself manifest: nationalist populism. Or, as Trump's advocates put it, 

Trumpism

. This philosophy would mash up protectionism with a quasi-isolationist foreign policy focused on placating dictatorships such as Russia 

…and more »
Who's Winning Trump's War With the Press? – Politico

Politico

Who's Winning Trump's War With the Press?

Politico

In May 1973, Walter Cronkite opened the CBS Evening News with an item erroneously implicating a Bethesda bank run by Pat Buchanan's brother in Watergate 

money

–

laundering

. The AP falsely reported that [John] Ehrlichman was present at a key cover-up 

…and more »
Barack Obama tells Prince Harry: leaders must stop corroding civil discourse

Former US president also talks about life after leaving office in rare interview conducted by prince for BBC Radio 4s Today programmeBoxers or briefs? Prince Harrys quickfire questions for Obama

Politicians, and others in positions of power, should stop corroding civil discourse and seek to unify society, the former US president Barack Obama said in a rare interview conducted by Prince Harry for BBC Radio 4s Today programme.

Related: Prince Harry guest-edits BBC Radio 4 Today programme

Related: Obama's post-presidential life: what does his second act have in store?
US Is Meddling in Election Says Russia, Days After Moscow Bans Anti-Putin Candidate – Newsweek